Golf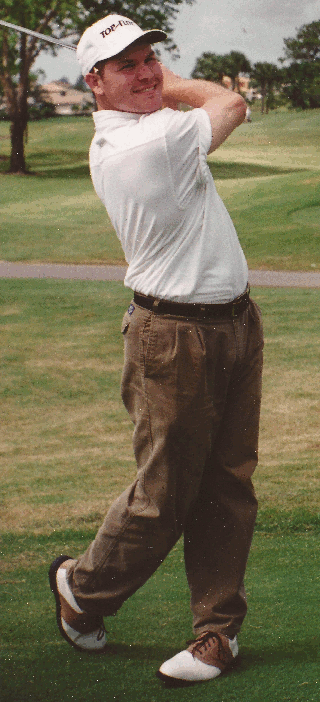 I love playing golf. I love watching golf. I love practicing golf. I love talking about golf. In short, I love golf! Well, at least when I am playing well, which is about 10% of the time. I started golfing when I was 19 years old and working at The Fountains Country Club. I worked in the dining room as a server, and as an employee I had the great fortune to be allowed unlimited play on the 3 18-hole Championship courses. My day would start at 7 AM when I would hit 300-400 balls on the range and practice around the putting green. Then I would go in to work from 9AM-2PM. After work, I would play as many holes as I could before it was too dark to see. I did this at least 5 days a week. All that golf improved my handicap from an 18 to 1 within a year. After playing a round with a couple of the club members, I was offered a sponsorhip to play on The South Florida Pro Tour. I played on the SFP Tour from 1992-1994 and unfortunately never won a tournament. I did, however, come in second place in 2 events and finished in the top 10 five times. Since I was not good enough to play professionally for a living, I decided it was time to get an education and a career at which I could succeed. I still play a few times a month at courses around Birmingham and I currently have a 8 handicap, although I haven't been scoring very well lately.
Guitar
I am not in a band and never will be. I started "playing" the guitar about 6 months ago ... it's something I've always wanted to be good at, but never found the time or desire to work at it. I bought the Fender Acoustic to start with and then I found a great deal on Amazon for the
Fender Starcaster package
and have enjoyed playing both of them. I'm still learning how to switch from one chord to another, but it's coming along. I can't play any songs yet, unless you count Jingle Bells, but I'm working on it.
Reading
Cooking (and, Eating)
Remodeling
Video Games